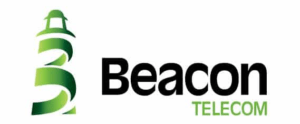 At Ten Key, Inc., we love helping clients succeed. Our accounting and bookkeeping services are customized to each client's needs, so they can focus on their business instead of worrying about the numbers. One of our valued clients, Beacon Telecom, shares that philosophy. This year marked 25 successful years for the family-owned and -operated company. We reached out to the Beacon team to learn the company's story so we could share it as an example of customized, client-centered service.
"We're different"
Differentiation is the cornerstone of Beacon's philosophy on customer service. "We work to create good customer relationships, creating customized solutions for all of our customers, large and small," says Kelly Simoneau, Director of HR and Marketing at Beacon. "We start with customer needs. As a result, we can build products and services around their business functions to meet those needs." This white glove approach makes Beacon unique in an industry that relies heavily on packaged options and stringent contracts.
Being a small (but growing!) company, Beacon prides itself on personalized service, learning the names and needs of all its customers. If a customer calls for service (which they can do easily, with Beacon service techs available 24/7) they can receive help from anyone on the team. This is because everyone works together to provide the best possible service. This team mentality gives everyone at Beacon an opportunity to understand and assist the customer.
Top-down philosophy for telecom
If you're wondering where this customer-centric vision originated, look to the top. Beacon's customer service effort is entirely inspired and led by CEO Jim Filbin. Filbin conceived the vision to take the company in the direction of customized telecom services and solutions that enable customers to succeed 25 years ago. "At Beacon Telecom, we believe that what's right for the customer is what's right for us," says Jim. "We are very fortunate to have a staff and partner community that all share in this philosophy. Ultimately, our 25+ years in business can be attributed to the successful relationships we have built with our customers and partners like Ten Key, Inc."
The future is bright at Beacon
Beacon continues to expand, recently adding to its customer service support team to further improve customer service. Every day, new clients are added to the roster. These clients  value the high level of support that Beacon offers. We are proud to be part of the team that helps Beacon Telecom continue to shine!